E&S QUIZ BOWL WEBSITE
PHILADELPHIA CITYWIDE TOURNEY (3/11/17)
It was an awesome day of quizbowl at the Citywide Championships. Carver A went undefeated all day until a tough best-of-three final against Friends Select A. Though they lost in the final, they played like champs. Congrats to FSS A on 1st, Carver A on 2nd, and FSS B on 3rd. Carver A's top player was senior Will Zhang (ranked 3rd overall with 59 points per game.).

The A team was followed throughout the day by WHYY reporter Avi Wolfman-Arent. They had quite the underdog story, fighting through tough competition all day in a undefeated quest to play FSS A for the title. Although they fell short in the finals, it was a phenomenal experience and I could not be prouder of them.

Carver B had a great day, going 3-2 in the AM (our pre-tourney goal) and finishing the day 5-4 and 9th out of 18 teams. Top B team scorer was junior Jayla Lewis (ranked 16th overall with 27.22 points per game.) Several moderators commented about how promising the up and coming B team was in competition.

Carver C went 1-4 in the AM (our pre-tourney goal for a novice team in a tough field) and finished the day 2-7. The top C team scorer was freshman Parmenus Bowler (ranked 24th overall with 20.59 points per game.)

A huge thanks to Abbi at FSS for running a wonderful event, Chris Chiego from Penn for promoting all things quizbowl in Philly schools, Paula Don from SDP for helping Philly coaches make quizbowlmanageable, Brian for being the best co-coach a person could ever ask for, and Avi Wolfman-Arent for covering my lovable band of quizbowl misfits all day.

As the A team said walking into a final stacked against them: "the enemy's gate is down." I love these kids.
WISSAHICKON TOURNEY (3/4/17)
QUAKER FALL OPEN (12/3/16)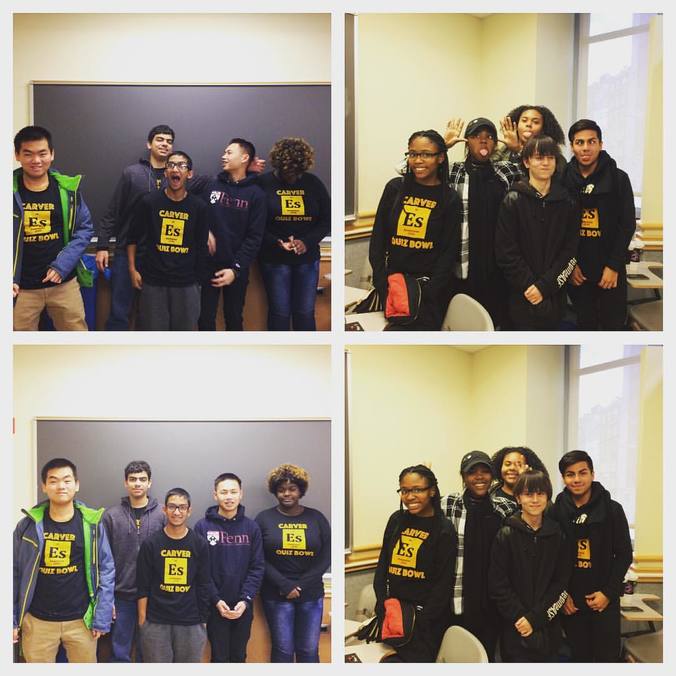 ​
HENDERSON TOURNEY (11/19/16)
We took nine players on two teams to Henderson (West Chester) to compete in the open level tournament.

AM ROUNDS:

The A team had a rough morning, going 1-4, but three of those matches came down to one or two toss-ups.
The B team went 0-5 in the morning rounds, understandable since this was their first ever foray into an open division.

LUNCHTASTIC:

We refueled with a stellar lunch at Wawa and Wendy's, eaten picnic-style by the bus on a gorgeous, sunny day. Will drank a Canada Dry in honor of Brian, who we miss desperately whilst he's in his native Canada.


PM ROUNDS:

The A team rocked the house in the afternoon, going 5-0. They won their consolation bracket and are aiming to make it to the playoff bracket at Penn on 12/3.
The B team scored their only win of the day the first round back from lunch (yay Wawa magic) but performed better on the whole in the afternoon.


TOP SCORERS:

Will came out 17th overall in the tourney with an average of 40.50 ppg.
Su came out 23rd overall with an average of 34 ppg.
Jayla came out 54th overall with an average of 20 ppg.
FALL 2016 SCHEDULE
Practice Information:
1. Practices will be every FRIDAY from 3PM to 4:30PM in Room 209 until the end of October.
2. In addition to playing questions, we will all be training to be moderators (readers) for our first ever tournament!!! This tournament will help us raise the $$ to travel to our other competitions...but having good moderators is the most important factor in tournament success.
3. In November, we'll add another day so that we have practices twice each week.

Tournament Information:
Saturday 10/8/16: We're hosting!! Carver E&S Fall Novice Tournament (Philadelphia, PA)
Saturday 10/22/16: Friends Select School Fall Tournament (Philadelphia, PA)
Saturday 11/12/16: Henderson High School Tournament (West Chester, PA)--Travel by cheese bus.
Saturday 12/3/16: Quaker (UPenn) Fall Tournament (Philadelphia, PA)
Saturday 12/17/16: Manheim Township Fall Tournament (Lancaster, PA)--Travel by cheese bus.


Manheim Township Spring Tourney (3/19/16)
A Team's first time in an open bracket was rough...questions were no joke...the competitors were super quick...but after a rough morning they won both of their consolation matches to go out on a 2 win streak!! B team had their best tourney ever with three solid wins! It was a great day with these amazo kiddos and our cheering section of family members (yay Alyssa and team Moms!!)
---
Philadelphia Citywide Quiz Bowl Championship (3/12/16)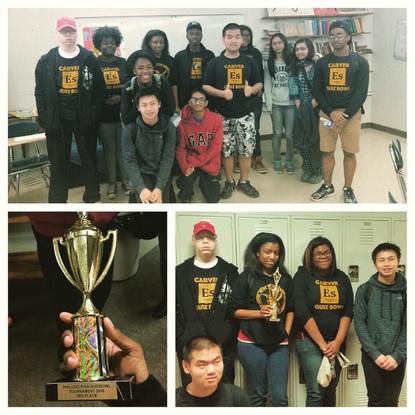 Congrats to Carver E&S A for taking 3rd in the first ever Philadelphia Citywide Quiz Bowl Championship!! This ranks us as the top public school team in the city!!

Friends Select A took first and will be heading to Harrisburg for states in April. Congrats FSS!! Kick some butt!!

Congrats also to Carver E&S top scorers...
Will Zhang ranked 10th overall in the field, followed closely by Su Ly (12th) and Dalya Hunter (13th)...great job to all competitors!!!

A huge thanks to Mr. Leed, Alyssa (my wife), and Ms. Giblin for filling in as chaperones while I was out with a horrible flu.




---
Channel 6 ABC taped our last citywide match!!

This is Carver E&S A vs. Central B...Carver took the game to win 3rd overall in the tourney.

Congrats to all teams in the tourney on a great day!

---
Manheim Township Fall Tourney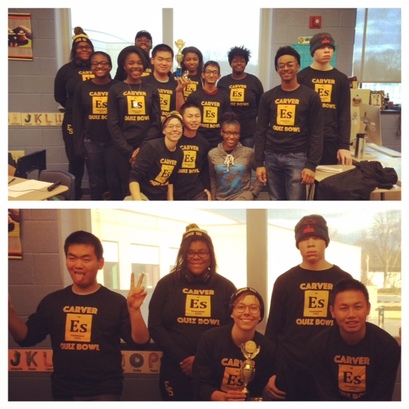 Congrats to Carver E&S Quiz Bowl on a big win at the Manheim Township Tournament!!
Despite a rough start to the morning (3-2), they secured the last wildcard spot in the playoff bracket and then ran the table, going 4-0 in the afternoon. They took 1st place in the JV division.
Captain Su Ly placed 8th overall for the day. Will Zhang placed 9th overall for the day.
Throughout the day, coaches and moderators praise our team for being well-rounded and for collaborating well on bonus questions.
The B Squad recorded their first and second wins. It was a good day for all!!
Congrats Carver E&S Quiz Bowl!!!
---
---
Quaker Fall Open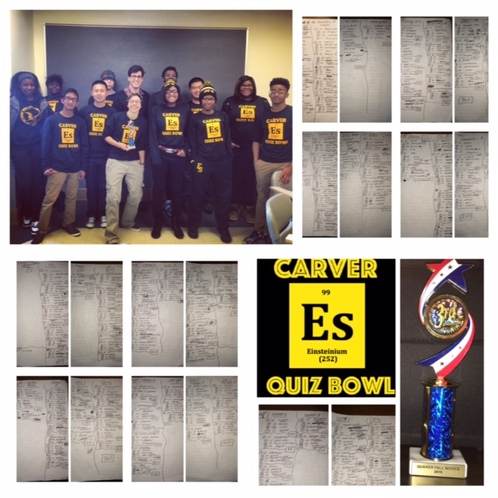 Congrats to E&S Quiz Bowl for taking 3rd place in the Novice Division at the Quaker Fall open on Saturday December 5, 2015!!
Upcoming Tournaments:
Manheim Township on Saturday 12/19/15--Bus leaves E&S at 6AM!!
Greater Valley on Saturday 2/20/16--Details TBD
---
FAQ
WHAT IS QUIZ BOWL? It's a bunch of people under time pressure answering random knowledge questions about ANYTHING and EVERYTHING....math, science, literature, history, grammar, trash (TV, movies, music, pop culture, etc) and anything in between.

WHY? Because knowledge is power....because it's fun to know stuff and it's even more fun to know it faster than the person next to you.

WHEN? During September and October, we will meet every Friday from 3PM to 4:30PM in Room 209. From November to April, we will add a second day each week (day TBD based on everyone's availability.)

HOW DO I GET READY? Start memorizing...a lot. Below are a list of sights that are really useful.
THIS PAGE HAS AMAZO FLASHCARDS: http://www.studystack.com/QuizBowl
THIS PAGE (NAQT) IS SORT OF THE END-ALL-BE-ALL OF QUIZ BOWL (It has some very useful lists): http://www.naqt.com/YouGottaKnow/

Remember, the goal is to be RIGHT and FAST....