AP AB Calculus (APAB)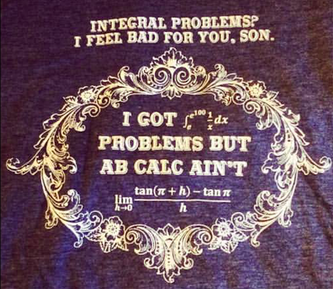 Countdown the the AP Exam
Tuesday May 15, 2018 at 8AM
COURSE OBJECTIVES

To prepare students to pass the AP AB Examination in May (to earn up to 4 college credits) and to be successful in high-level collegiate calculus courses
To increase speed and accuracy of student problem solving.
To make students use their noggins like whoa

HOMEWORK INFO

Chapter HW is due on the day of the related Chapter exam
HW Review ("recitation") will be held two school days before the exam. The school day before the exam will be a review for the exam.

OTHER ANNOUNCEMENTS

I am generally available for office hours during 4th and 5th lunch. Check with me in advance if you want to make sure I am there to help you during lunch.
Homework Coversheets and other APAB Documents
COURSE MATERIALS

Syllabus

---

Graph Paper

---

Unit Circle

---

Integration Practice

---

HW Review Solutions
(ones we did not have time to finish in class)

HW#1 (Ch.P and Ch.1)

HW #2 (Ch.2)

HW #3 (Ch.3)

HW #4 (Ch.4)

HW #5 (Ch.5)

HW #6 (Ch.6/7)

HOMEWORK

Chapter Homeworks
Due the day AFTER the chapter exam


For HW#2, there are several related rates worksheets. They do not have to be printed, but you have to do the problems. Also, my solutions are included...no need to print those either...up to you.

---

Competition Homework

---

AP Homeworks
These are only cover sheets!! The problems will be in your AP Binder!!


---

POST AP Homeworks

Parametric and Polar (BC)

SAT Prep (Redesign)

REVIEWS

Chapter 1 Review

Chapter 1 Solutions

Chapter 2 Review

Chapter 2 Solutions

Chapter 3 Review

Chapter 3 Solutions

4.1 - 4.3 Quiz Review

4.1 - 4.3 Solutions

Chapter 4 Review

Chapter 4 Solutions

Midterm Review

Midterm Solutions

Chapter 5 Review

Chapter 5 Solutions

Chapter 6/7 Review

Chapter 6/7 Solutions

Study Materials for Full-Length AP Practice Test